Dropbox is a service for saving its "cloud" data (or technically called cloud storage).
It allows you to save photos, videos, documents, and any other type of file in a secure remote storage and always synchronized with the data stored in your device, thanks to an automatic backup of the same.
Saved files will also be available on all devices in your possession, it's enough that the Dropbox app is present and you have signed in with your account.
Dropbox – Installing the Desktop Application
To install Dropbox, for first thing, download the installation file from the site Download desktop application
Start the installation and wait for the end of the process.
At the end of the process, you will be required to register.
Enter your details and complete the registration process by following the onscreen instructions.
At this point you are ready to use Dropbox, your system will have a folder that will be used for file synchronization with remote storage, for example on Windows 10 is something like "C:\Users\User_Name\Dropbox", the link is also accessible from links created during installation.
To save the files or folders to the cloud, simply drag them to the folder of the service above, or right-click on the file or folder you want and select the item "Move to Dropbox".
Use Dropbox to share files
One of the most powerful features of Dropbox is to share your files and folders, allowing more people, such as members of a workgroup, to access and edit shared files.
To share a file, right-click the folder or file in the Dropbox folder and select "share"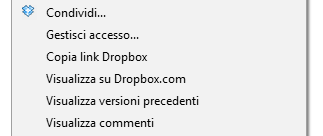 then choose who to allow access to the file or folder and what they can do about that element shared.
If we want to make our file public, we have to select the "Copy Dropbox link" item instead of sharing it.
In this case, you will create a link that you can publish or pass to who you want without further configurations.
Dropbox – Installing the app on Android
The installation of Dropbox on Android is still just as easy.
Go to Download app for Android and install the app from the Google Playstore
After installation you can access the services of Dropbox similarly to what has been explained for the desktop version.
You can therefore follow what has been said in the previous paragraphs to configure files and folders to save on the cloud.
Dropbox Website
Dropbox as well as providing the services on different operating systems for backup, synchronization and data sharing, it also offers the ability to manage this information through its website.
By accessing the site you have a complete view of uploaded documents and folders.
It is also possible to upload new files, create new folders, share an existing one, or delete a data that is no longer needed.
Dropbox – Technical features
There are two versions of Dropbox, one free and one paid.
The first version offers only 2 GB of space for storing our data.
In the second case we get instead to 1 TB, but you need a monthly or annual subscription that is around EUR 10 in the first case and in the second hundred euro (refer to the official website for updated prices Official site).
We have to say that in the case of the free version you can increase the space by inviting friends, in this case you will receive 500 MB per head. You can take advantage of this option up to a maximum of 16GB.
There are other ways to increase its available space, such as installing the app offered by Dropbox or participating in some events, so it's always good to keep an eye on the news site.
Dropbox Requirements
Dropbox is present for all major known systems, Windows, Linux, Mac with regard to the desktop world, Android, iOS and Windows Phone regarding the mobile world.
Dropbox – Conclusions
Nowadays there is a growing tendency to share their data on the various Clouds and 2 GB are very little compared to other competitors, Google or Amazon, just to give an example.
Anyway, here we are talking about the app and not the space at our disposal and I must say that Dropbox for Android, PC and even the web is very well done and very easy to use.
So if you want to try a different solution from the classic Google or Amazon Cloud, take a look at Dropbox, and follow the guide just mentioned, you might be pleasantly surprised.
Let me know your opinions about it, share the article with friends and subscribe to one or more of my social pages.
Your interest is my greatest satisfaction.
Andrea