Are you pokemon lovers and would you never gamble with your favorite monsters? If your answer is yes, this article on the new game Fantasy Myst will surely be your case.
As for the article a few weeks ago on Monster Park (SEA), we are still faced with a clone at the limits of the licensing boundaries, in fact it is likely that even in this case Nintendo will battle.
I smile thinking that with the last article about the pokemon that I wrote, I made a poor friend pokemon dependent, and are curious to see what the reaction will have with this new title.
Fantasy Myst, fortunately, compared to Monster Park (SEA), is less shamelessly copied, and I must say that apart from the names and monster graphics, at least the gameplay is totally different.
So no pokeball to capture the pokemon, no search for monsters in the high grass, we'll see if this will be enough to avoid problems with the producing house.
Fantasy Myst – Satisfy the need for pokemon on Android/IOS
Leaving aside the legal problems that this game may have, we see what it offers.
Surely the first aspect that strikes Fantasy Myst, is the eye-catching graphics.
We can certainly say that is a real revolution, however, have on Android a pokemon game with bellina graphics and smooth even on devices not exceptionally powerful, it is not a trivial matter.
The monsters founded in the pokemon world we will find them all again. Charmender, Bulbasaur, Pikachu, Psyduck and the rest of the company are just a few examples.
We will find it even many of the legendary monsters of our mythical adventures.
The experience of monsters can be increased either with classic fights or by assigning experience points in the pool of experience.
This latter possibility is very useful in the case of low-level monsters since they would hardly survive high-level clashes.
At each level increase, Pokemon statistics increase, but in Fantasy Myst, there are other ways to increase them.
A first example, is through the increase in the bond of friendship.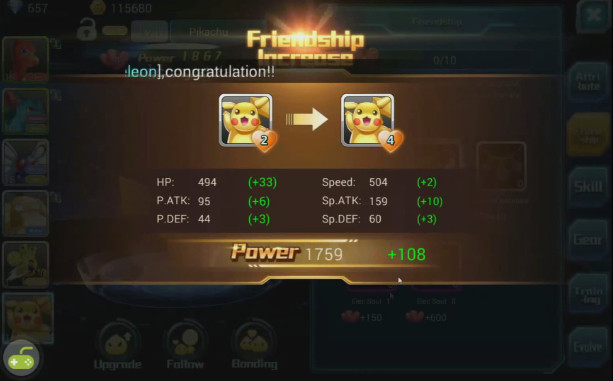 This will also help unlock evolutions and will have to be as high as the evolution level to be unlocked.
Also at certain levels, additional skills will be unlocked, which will make pokemon more deadly.
Another possible method is through mergers.
A monster will acquire statistics by absorbing another monster.
Finally, as mentioned earlier, in Fantasy Myst, Pokemon can be evolved and the evolutions follow the same line as the classic Nintendo game, it only changes the mode.
In particular, it will require certain objects more and more difficult to find depending on the level of development, in addition to the level of friendship we talked about earlier and of course the level of the Pokemon.
Fantasy Myst – 3 vs 3 fights
The biggest difference between the classic Pokemon game and Fantasy Myst is the fighting.
We have always been accustomed to seeing the classic one-to-one combat where one of the main skills was to pick pokemon with bonus against your opponent to have a simple life in the clash.
Here it is different, because the concept of bonuses exist and are indeed very marked.
A pokemon who has a bonus against a rival, gets much less damage, and according to the skill he uses, causes many more.
This time is not enough, because you have to correctly pick the team and not the individual.
Having a balanced team can be, for example, a good choice, but what if you find against three monsters all of the same type where only one of yours has bonuses and the other two have no bonuses or worse still have only malus?
The choice of the team is therefore essential and often we will have to face again a mission because we did not choose carefully our pokemon.
Fantasy Myst – mounts
In Fantasy Myst we will also have the chance to ride some Pokemon.
Maybe it's not what you would expect to, you might be thinking "how nice, i capture a charizard and i ride it."
It's not like you think, the rides will have to earn you apart from pokemons caught for the fight.
By feeding your horse it will acquire the statistical bonuses and increase the level.
At the highest level you can go to the next mount and continue growing for obtaining all possible mounts.
In Fantasy Myst the mounts will give bonuses to the statistics to your team, making it easier (or possible) the clashes to be dealt with.
Fantasy Myst – PvP missions and much more
In Fantasy Myst certainly does not lack PvP, you will face the classic competition, where you will face other players' teams and try to win to get to the rankings.
Or challenge the other players' teams directly to test your team and your skills.
If this were not enough, to get the true PvP can take part in the Champions League where he will face other players in real time, you will be able to get to the top of the standings and become the best of all?
Certainly no shortage of missions and objectives, upon which you will acquire objects, money and gems to use for upgrades and the latter also to evoke new pokemon that you might not otherwise acquire.
Fantasy Myst – Gameplay videos
After one week of play (at time lost however, given my schedule), my team now has grown compared to the introductory video and I also found some rare monsters.
Of legendary still nowhere to be seen but for those it takes a long time and or money.
Meanwhile, watch this video if you like:
Fantasy Myst – Conclusions and downloads
Summing of Fantasy Myst, I would say that the game is not reflecting the usual canons on pokemon games purists might turn up their noses, but in my opinion this diversity represents a breath of fresh air.
The game keeps the charm and playability of Nintendo's classic, but adds the novelties that make it enjoyable and a different title.
We will see how it will end and if in this case the software house will have to remove the game from the play store, but until then download it and enjoy it, the link is as follows:
The download of playstore is no longer valid, see next update for more information.
Updated on 29/04/2017
The game as I thought it was removed from play store, you can still download it from their facebook page at:
By clicking the "play" button.
The apk downloaded will then be installed as an external source on your device.
Tell me your comments and sign up to my pages and on my YouTube channel to keep you up to date on the latest news.
Your like or follow is the best motivation for me to keep updating the blog.
Andrea