You wake up in the morning and want to make yourselfie while you have breakfast but you have not even washed your face, do not worry, with the app YouCam Makeup you can do it without any problems, before you take it and then make your own makeup.
Today's article, as you understand, it is mainly addressed to a female audience, and wants to solve, for those who do not yet know the application, a problem that often afflicts them.
Let's say the previous example is a bit extreme, but how many of you have photos in your cell phone that are beautiful, particular or simply you are in a place where you will not be so easily and can not publish them because you are not dressed, or have a pimple that you do not want show to your friends?
YouCam Makeup is one of the best app for Android and IOS, that allows you to modify your photos with state-of-the-art effects that improve them by making a real make-up against any other imperfection you want to eliminate.
Here is a short introductory video on my YouTube channel:
Instead to download YouCam Makeup in Android and IOS version:
Download the Android Application
YouCam Makeup – The imperfections have counted minutes
The strong point of YouCam Makeup is represented by intelligent face recognition.
Through this feature, the application's effect features make it exactly where it is needed.
Otherwise, it is always possible to indicate the position of the reference points to help the application in recognition.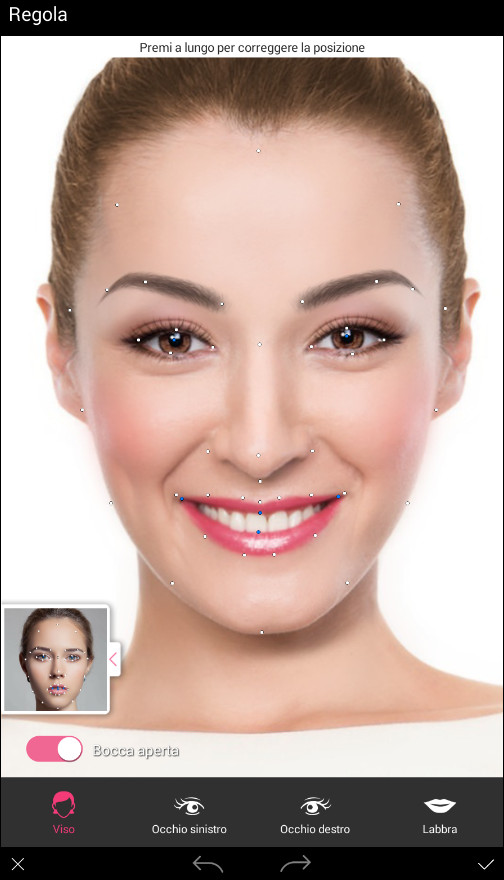 You can choose from many existing looks or create your own.
However, YouCam Makeup does not stop at the simple makeup of the photos.
It allows you to make real-time makeover, so you can see the trick applied to the photo even before you click it.
It offers advanced social features such as sharing your own cosmetic look or video selfie, snapchat, instagram, and facebook.
Finally if you love horoscopes, YouCam Makeup offers daily horoscope and advice for all zodiac signs.
You tell what the horoscope has to do with a photo editing program, but given the strictly female target of the application, I would say they had a good idea.
YouCam Makeup – conclusions
There is nothing to say about the validity of the application.
With this app you can get on your own picture with great quality and you do not even need to be perfectly makeup before you take the picture.
The application is free and in several languages.
So what are you waiting to download it and start publishing your photos steady for months in the memory of your mobile phone?
As always I remind you to let me know your opinions and subscribe to my pages and my YouTube channel to stay up to date on the latest news in the world of Android, IOS and PC.
Your actions are for me the best motivation to keep the blog updated.
Andrea