When the other day I saw Lineage II Revolution in my wandering around the net, it was a very pleasant surprise for me.
Many of you will be familiar with the MMO Lineage II and if you are among those who loved him like me, you will certainly spent months playing with it.
Well, Lineage II Revolution is the sequel to this famous game, made by Netmarble with the Unreal Engine 4 engine for Android and IOS, hoping to exploit this famous franchise and get the same success it has achieved in the past.
Here is a short video of gameplay in the only language currently available.
Lineage II Revolution – When is the release?
Lineage II Revolution, in fact it is already active and playable for long time in Korea and on their servers.
It is not yet available, an English version, or better still in Italian, however downloadable from the Google Play Store.
We talk about a possible release in June 2017, let's see if this date is kept or will be further extended.
Here you find the official site to pre-register, but it is not currently active:
UPDATE 15 November 2017:
Attention, the release of the game is official in the international version.
Here you can find the last updates articles:
Official Release of Lineage II Revolution – International Version
Review Lineage II Revolution – Top MMORPG for Android and IOS
Lineage II Revolution – The game
As with any good MMORPG you respect, the purpose of the game is to solve the most varied missions and kill enemies of every form and race to gain experience to level up and acquire new skills and better stats.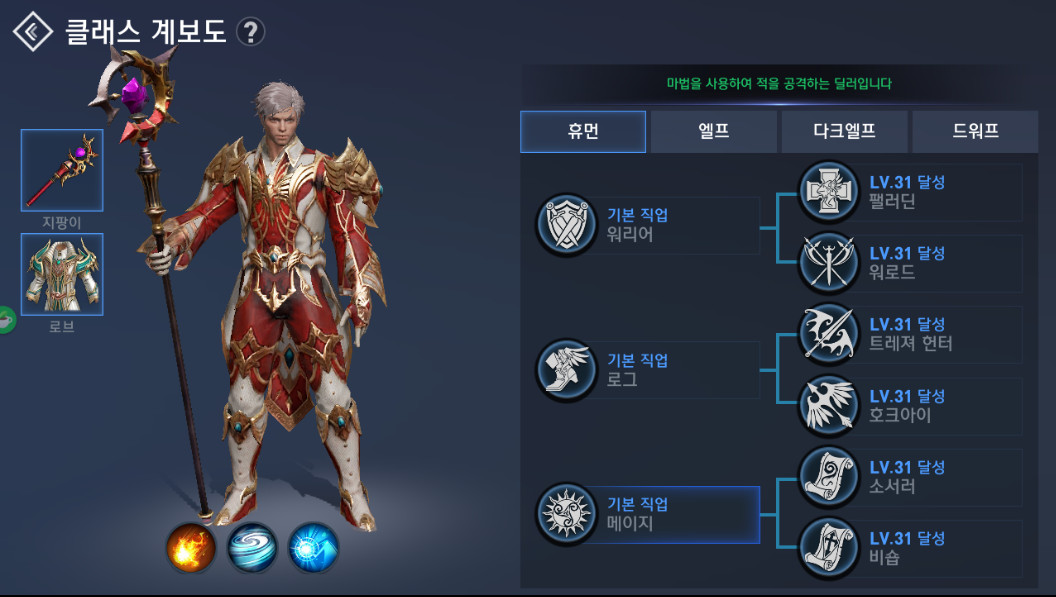 In the current Korean version you can choose from four possible breeds: human, elf, dark elf and dwarfs and three possible classes with different sets of skills and spells.
I usually prefer magic classes and my choice has fallen on this female mage.
Made the initial choice, you can start with your story and follow the step-by-step missions you will be presented.
Well if you do not understand Korean like me, let's say that it's going to be a bit difficult to follow the story, but it'll make you out of the gym waiting for the official exit.
Maybe you are one of those people who like to try the news in advance and you will continue to play on the Korean servers to know what will come out of us, in the past I've got to know players of this caliber.
In other games of Korean origin, in fact it is not rare that the latest news is first released on the Koreani servers and only then arrive to us.
Lineage II Revolution – Missions and PvP
Choosing the mission, in Lineage II Revolution, as well as in the vast majority of the latest generation mobile games, you will have the option to activate both auto search for the path and the self-combat.
Anyone who follows me a bit will know that I do not like this choice because it makes it too automated and loses the challenge, but I think this feature today is a must if you want to keep up with the times.
In the game we will also have the chance to face real enemies in a nice PvP, with the difference that in this case, has been well cared for and PvP does not just mean to automatically launch your character against one of another player.
In Lineage II Revolution, in fact, PvP has been taken into great consideration, the classes are very balanced and to win against your human foe, you have to put a bit of a head and not just have the best equipment or the highest level (which, however, certainly benefits).
Lineage II Revolution – Access to Korean servers
While we wait for the European official release of the game, I'll explain how to play on servers Koreans.
You first need to download the apk game.
Now installed on your favorite device.
If you are using a normal mobile device, you must enable installation from unknown sources.
If you prefer, like me, to try it on an Android emulator for PC, you have to choose which emulator to use, as you will not get the same result on all emulators.
Nox in this case did not satisfy me a lot because it is not very compatible with the game's graphics.
By installing apk for setting the graphics such as GLToolsXDA, we can do it, but the result was of low quality.
Great results, however, are obtained using BlueStacks, and the result can be seen in the images that I have inserted in the article.
If you do not know the emulator, ypu find this my article of some time ago:
Android Emulator for PC – Bluestacks
Lineage II Revolution – Conclusions
Drawing sums on Lineage II Revolution, I have to say I do not think I can find better at both graphic and gameplay levels.
Of course they have to like MMORPGs, and perhaps the purists of this kind, they will find the simplifications offered by this game as something negative.
Certainly the lovers of the Lineage saga will not know how to resist it and maybe love it.
We look forward to the European release of the game, meanwhile I will keep you informed.
Register on my pages and on my YouTube channel to keep you informed about the latest news
Andrea