Hello everyone, today I wanted to start a list of all the free offline games for Android.
Some time ago I wrote a similar article, but concerned only the Best Offline Role Playing Games.
Today, instead, i want extend the list to all other types of games, since, very often my reader, asked if i knew some nice game that is not an RPG or a strategic one (yes, i'm really lover of these games so i'm a part ) and it could also be used by those who dont have an active internet connection all the day.
So without lost other time, we look at the list of games without internet.
Free offline games for Android – Pixel Dungeon Hero
Let's start with a beautiful vertical shooter set in the fantasy world and with some role-playing items.
The game in question is Pixel Dungeon Hero.
You will find yourself in the shoes of the classic hero in the assault of the tower, often known as a dungeon crawler.
Here you will encounter a myriad of monsters that mysteriously possess money and equipment for your hero (I'm always asked to make a monster with money and worse still with a gear which do not use certain).
Every time you face the tower will have to pass all in one breath a number of rooms to be back in town with your booty, otherwise you will lose everything.
In the city, with money you can raise the level of your hero and if you find better gear than that possessed, you can replace it, otherwise it will only trash to be sold to recover additional money.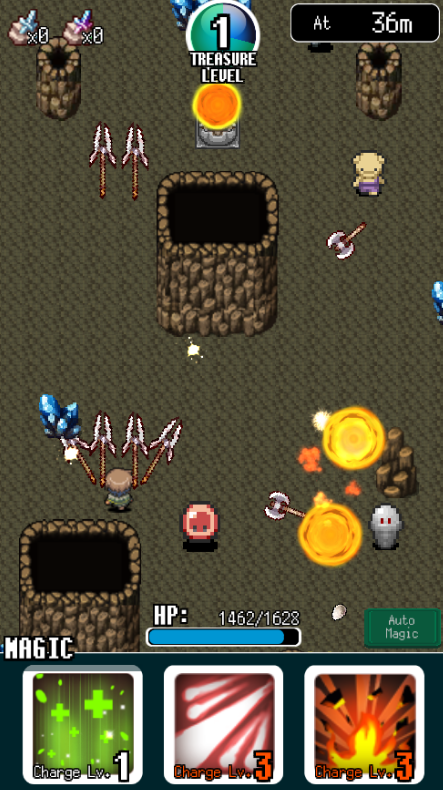 Here is a short video of gameplay on my YouTube channel:
Download of Pixel Dungeon Hero
Free offline games for Android – Resort Tycoon
A great pastime for those who love the carefree play is unassuming Resort Tycoon.
In Resort Tycoon impersonate a handyman waiter who should serve the patrons of a hotel as quickly as possible and accontentarne desires to earn money and make sure that they go away happy.
Some levels will have a goal to be overcome.
The money earned will be reinvested to buy new rooms, diversify the food served and all other various improvements in order to increase the amount of money earned (and also make life harder for the poor waiter).
Here the gameplay video:
Free offline games for Android – Lollipop dolce match 3
Another great pastime is the new discovery Lollipop sweet match 3.
Do you know the saga Candy Crush?
If your answer is yes, the game in question is of the same kind, however, has the advantage that it can be played offline and above can be replayed as you want without those damned life points typical of these games.
If the answer is no … congratulations, you are among the few that do not grumble the media effects of obsessive advertising.
Whatever your answer, Lollipop Sweet Match 3 falls into the category of puzzles where you have to align similar items like fruit, vegetables, animals, furniture, and the more you put it.
At each level the difficulty increases and can also change the objective of the level itself.
For example, we may have to drop objects from the bottom to pick them up, or turn some boxes on.
If you want to get an idea right away, here is the gameplay video:
Download of Lollipop dolce match 3
Free offline games for Android – Postknight
If you've always wondered what you can try to do in a fantasy world Postknight is the game that's right for you.
Ok Seriously, the game in question you represent a hero postman struggling against all odds to bring to your destination mail, and packages.
The game can be framed by some sort of idle game and action.
Here you find an introduction video.
Postknight is very enjoyable to play and is very interesting for three reasons.
First has no concept of stamina points for missions.
If you have enough life, you can face the next mission, otherwise wait until you are healed.
There is no advertising in this game, or rather there is, but you have to decide whether to view it or not.
Going back to the previous point, you can decide not to wait several minutes before it heals completely our favorite postman (uhmm who knows what do you think Maria de Filippi) and view a video that will make you heal much faster.
Finally the game is not simply start a mission and you're looking at, but we have to be good at picking the times to use skills, or risk defeat.
To the above, we can add that the hero increases experience and acquire new skills and statistics with the level increase, choosing us the skills that we prefer.
It can improve weapons and armor from the blacksmith and produce various potions of the village by the alchemist.
It's offline, it's free, it's fun, then are you waiting to download it?
Free offline games for Android – Big Little Farmer
For farm game lovers, Big Little Farmer is a great representative and playable offline.
The game starts in the most classic way, so you will manage a small farm where you will only have a few fields to make money.
Selling the fruit of your work you will earn money and experience.
With money you can expand your farm by buying stables, farmyards, oven and much more.
Instead, with experience, you will gain levels that will unlock important and useful parts of your farm for growth and expansion.
Below is a brief introductory video:
Since the blog also deals with cheats, I anticipate that you can use the time shift trick forward to spend time and not wait hours for growing crops and animals.
Here is the download of the game:
Download del gioco dal play store
Free offline games for Android – SimCity Buildit
When we think of the first real development simulator of a city we can not think of the famous SimCity.
The first SimCity was developed in 1989 by Maxis.
Various titles have been followed, including the most important SimCity 2000 or SimCity 4, which added game thickness and improved graphics quality.
SimCity Buildit, developed by Electronics Arts, which has acquired brand rights in the meantime, follows the footsteps of the SimCity series, placing it as a first-rate mayor who will need to build his own city from the ground up.
What made famous SimCity is the cure in your city planning to try to keep your citizens from doing nothing and to avoid disasters that could ruin the work they have done so far.
You'll have to organize the areas of the city for industry, commerce and residential go of love and harmony.
Residents will not be happy if you build a polluting industry nearby.
So it is good to plan an industrial area away from residential areas.
On the contrary, commercial areas give rise to the growth of residential areas and you should try to distribute them as much as possible.
The same argument applies to utility buildings or decorations such as parks, theaters, or firefighters.
In fact, they will lend themselves to residential areas, and in some cases they are needed if you want to get the most out of the residential area you are planning to develop.
As in any good SimCity, even in Buildit are the disasters that we face and try to contain to avoid destruction.
Fortunately, they will not be present right away, so we'll have a chance to practice with the game.
When we reach the 90000 inhabitants, we will be able to unlock disaster challenges to make the game even more exciting.
If your dream is to be the mayor of a small town that with your help will become a big city, then i would tell you to download the game from the following link:
Free offline games for Android – Ankora
Ankora is an adventure game that puts emphasis on the game vastness.
In this totally free and offline game, your heroine is a spatial explorer named Mûn.
Your spaceship suffers serious damage and you are forced to land on Ankora to avoid the worst.
Here you will find an introductory video of gameplay on my channel:
Upon landing, or rather, crashed on the planet; you will find yourself with just a few items including water and a bit of food.
Your first thought is to try to send a rescue signal.
Unfortunately, the antenna has crashed and you have to recover and reconstruct it beforehand.
But do not miss the hopes, because on Ankora you will know the Anks that will help you and put your knowledge at your disposal.
With their help and your skills, you are able soon to build the tools necessary for your survival and especially for the recovery of the pieces of your transmitter.
You can fish, farm, cook, create potions and more, in return will help the Ank in the various missions that you propose.
The game reminds me a bit distant Minecraft.
Thanks to the use of the tools you create, you will be able to retrieve the materials to build other objects you will need to overcome the obstacles you will find in the game, such as scales and bridges.
The beauty of Ankora is the adventure surrounding the gameplay.
You will often find yourself trying to figure out how to overcome a certain obstacle and think about what to build to achieve your purpose.
In some cases the puzzles become particularly difficult to solve and we will spremerci the meninges
The link to the game can be found here:
Best games without connection – More tips
From now on, I have decided to give more emphasis to every single game and to create a specific article for each of them.
Here is the list of recommended offline games:
Free offline games for Android – Conclusions
The list of games will be updated frequently, each time I find some new interesting game to propose.
Follow me on my pages and on youtube to stay up to date.
Hello and the next time.
Subscribe to my pages and my Youtube channel, you will always be updated on the latest news to find out.
Remember that it does not cost you anything, but for me it is the starting point to continue feeding the blog.
Andrea