Top Android free RPG offline games - page 2
Top Android free RPG offline games – Weapon Throwing RPG 2
For those looking to role play different from usual, Throwing Weapon RPG 2 is the apt title.
Its peculiarity lies in how your game characters face combat.
In the classic role-playing games, you are called to choose which is the ability or magic more suitable to use against your opponent.
Or you have to wiggle it at full blast your arms to slice or roast the enemy of the moment.
In this game, the weapons instead should be "thrown."
Do you have a dagger?
You will launch it to the opponent.
Do you have a spear?
You will launch it to your opponent.
So far there may be, strangeness is when you have to throw the swords.
You may be wondering what's so strange about all this, even if it seems strange not certainly this big news.
The real peculiarity lies in how these weapons are launched.
There are three types of weapons with three different trajectories.
Both you and your opponent you will launch the weapons by following one of these trajectories.
The launch speed depends on the weapon and the level of the same, not only by the speed of recovery of the skill points.
If the weapon launched it meets the weapon of the enemy, hit fully the opponent and cause maximum damage.
If the two arms instead collide, if the two are the same cancel each other out.
Otherwise, the strongest weapon will win the duel and continue its run, with a potential for inferior damage.
Do not you remember a bit of paper, scissor, stone?
To all this is added the ability to purchase weapons, armor and potions, as well as the chance to temper your weapons to improve their offensive potential and decrease the amount of skill points required to launch them.
If what is written will put curiosity to you, download the game from play store:
Download del gioco Weapon Throwing RPG 2
Top Android free RPG offline games – Dungeon quest
Other nice offline RPG action that I found really enjoyable and fun is Dungeon Quest.
Dungeon Quest is the classic role-playing action game with isometric view from above.
As said before, the comparison milestone of this type of games is Diablo and his successors.
Of course, Dungeon Quest can not be compared to Diablo regarding depth and breadth of the game; However, it is a very intense action game and thanks to its dynamism in creating levels, it is also quite varied.
Choose your favorite class among the three available to you: mage, warrior and archer.
The main feature of the game lies in the skill.
The main weapon controls on your core skills that you can use.
The other skills instead unlock using the points you earn by defeating particularly powerful monsters.
Choose carefully what weapon to use and skills, because some really consume mana and your resources may dry up leaving you helpless.
During the adventure you will find the Shrine that will give you temporary benefits, such as experience, fortune, power, and so on.
And also wells that will restore your life styles or make you recover the magic energy at the highest level.
As soon as you have gained enough experience, you will increase the level and gain a statistical point that you can invest in one of three possible branches.
Power, Health and mana, each of these will increase some of your key statistics, raising the fighting power.
The choice of what to grow much depends on the class you have chosen at the beginning.
A wizard will surely target mana and put some punctuation on health.
A warrior instead will increase power and health.
In any case, much depends on your playing style and what you want to bet.
If you want to try it, download it from here:
Download del gioco Dungeon Quest
Top Android free RPG offline games – Nonstop Knight
Nonstop Knight can not be considered a pure RPG, it combines classic RPG to, more and more present, idle game.
In fact, this game your hero is a knight that must face hundreds of monsters.
You will not be you to show him the way to go, but will do everything automatically.
You will have to choose the ability to use and when to use it, enhance the equipment and modify both skills and armor, weapon and mantle.
This is a targeted choice just to make the game simple and engaging.
Maybe to make it more attractive in the eyes of those who do not like to get lost in the various dungeons and wander around for hours to find the exit.
Fans of RPGs, instead may turn up their noses.
But I have to tell you that not having made it a photocopy of other commercial games, makes it a novelty and addictive.
What's more is there to say, and here again comes the most part idle game, your hero will continue to fight even when you will not be present and the game closed.
It will alert only when you have to face very strong boss or you will have gained much gold to invest in upgrades.
Nonstop Knight is the classic game where you can not stop even if you want it.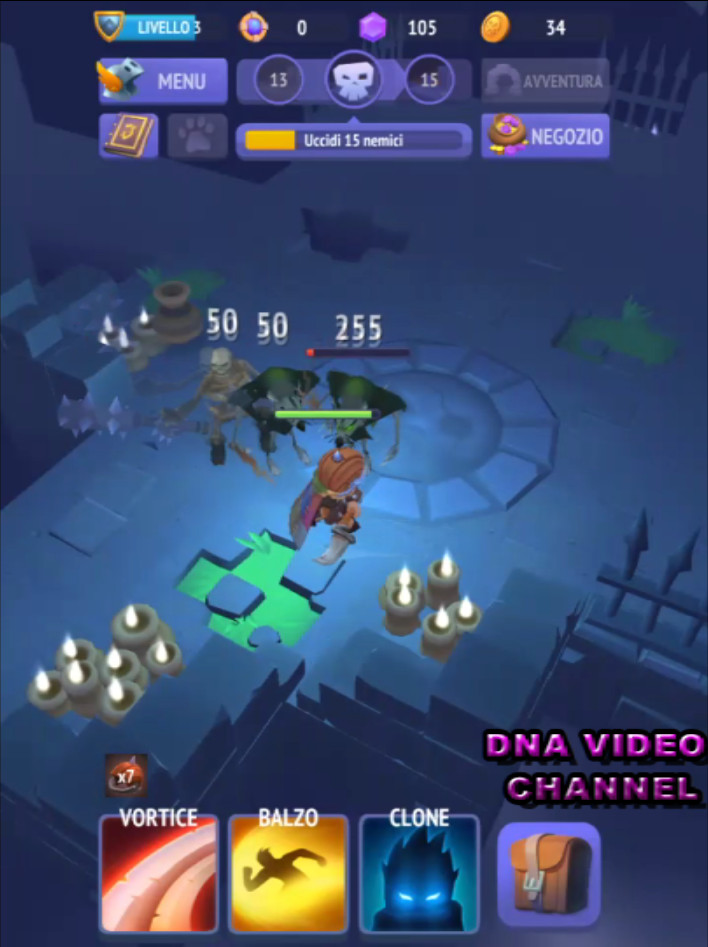 Maybe you're looking to play something stupid and repetitive.
But due to its simplicity and the speed with which actions are made, especially thanks to the ascension, the game is frantic and engaging.
But what is ascension?
The idle game lovers will surely have already understood what it is.
Starting at level 20, you can choose to restart the game, earning awards, including coins you'll need to upgrade your hero.
For example, double gain of coins, increase in percentage of damage inflicted is with abilities that without and so on.
You will face everything from the beginning but with a much stronger hero and will complete the initial levels in a few minutes, and then get to higher levels ready to face the new monsters.
Without ascension, you could not face ever greater dangers.
If you want to try it, remember that it is also offline and completely free (it will only ask you occasionally if you want to see a video to give you prizes, but you can fine refuse it), here is the link to the download:
Download the game Nonstop Knight
And to you which of these games like best?
Do you have others to recommend?
If the article has been useful to you, share it and subscribe to my pages and my YouTube channel.
It costs you nothing, but for me it is an incentive to continue to take care of the blog.
Andrea
Loading ...