Today I wanted to introduce MEMU, a new emulator for Android that I've tried these days.
Time ago i have already shown you another PC emulator see Android Emulator for PC – Bluestacks, but I got to try the MEMU emulator because i tried something that was easier to manage and to give me the option to activate the root without doing mortal jumps (so i can do experiments on an Android system without problems on loss of guarantees or various safety problems).
Among the various emulators tested, the easiest to use and configure proved MEMU.
Add to the list of possible emulators also possible NOX, if you want to have a complete picture, also read this article about NOX Android emulator for PC with root permissions.
NOX is very similar to MEMU, so I suggest you download both and try them to see which one suits you best.
Features of the MEMU emulator
The main features of MEMU are:
reliability
speed
multiple instances
ease of use and configuration.
Compared to Bluestacks, in fact, I have noticed less frequent crashes of applications (in fact to say the truth so far has never happened, which happens with Bluestacks very often).
Better performances than competitors give him a good deal of points even on some less performing systems.
Another special feature of MEMU that other emulators do not have is the ability to launch multiple instances of the emulator that allows you to simultaneously use multiple applications on your PC, a great feature for those with many games to follow.
Lastly, the reason why I tried and installed it was to enable the root mode with a simple configuration option.
No need to install external software or follow complicated routing procedures that I believe are eligible on Android systems on physical devices such as tablets or smartphones, but not in a PC emulator, as it is somewhat limiting for those who want to do it.
Installing MEMU
The MEMU installation is very simple.
Download the installation package from the Official Site and start it.
Follow the instructions that will be displayed on the screen and the application will be installed on your personal computer.
MEMU – Installing the app – using the Play Store
We launch the emulator and after a few seconds we will see that we are facing a real Android device on our PC.
Compared to Bluestacks where there was a section of the application from which to download apps, on MEMU we can directly use the Play Store to install our favorite apps.
In fact, even on Bluestacks, you can use the Play Store, but often applications not in the download section are not fully compatible with the emulator.
The installation from the Play Store is the same as usual that we can find on any real Android device and I do not think it needs explanation.
MEMU – Start multiple emulators
To use simultaneously more emulators, MEMU provides a dedicated manager of environments where you can create all the emulators you want having limited only by your PC's resources.
To start this manager use the link. Which will be created during installation. Multi-MEMU.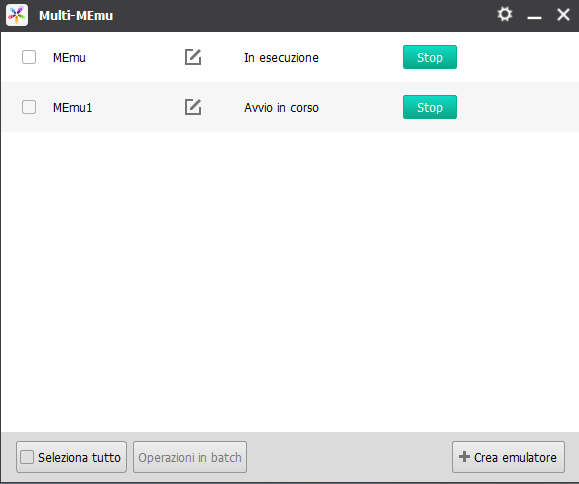 In the example that I am showing you, two emulators have been created.
The Create Emulator button allows you to create new ones.
Instead the start and stop buttons allow to switch on and off the instances of the single emulators.
MEMU – Enabling the root in MEMU
Now I show you how simple it is to enable root permissions in MEMU.
Click the wheel icon to enter the management page.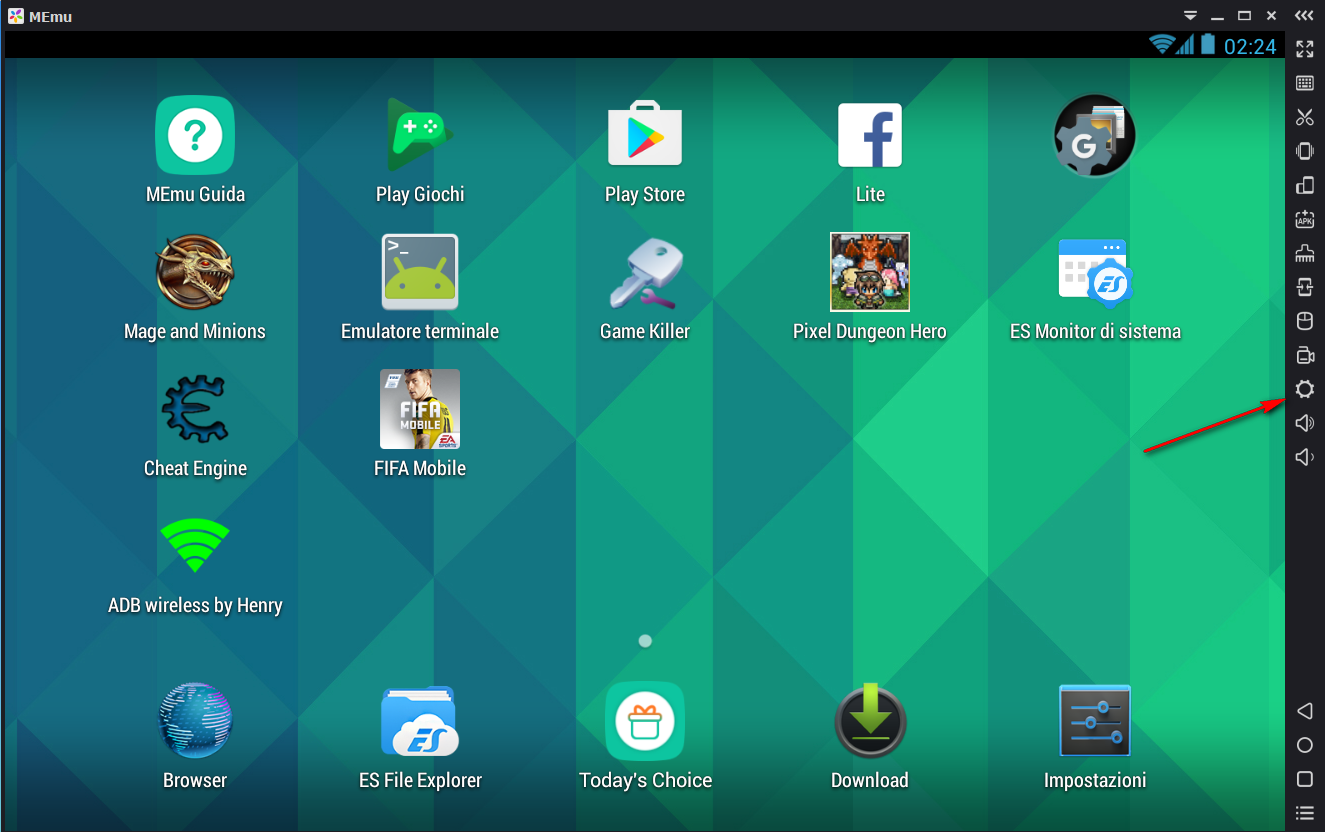 You will be shown the following screen: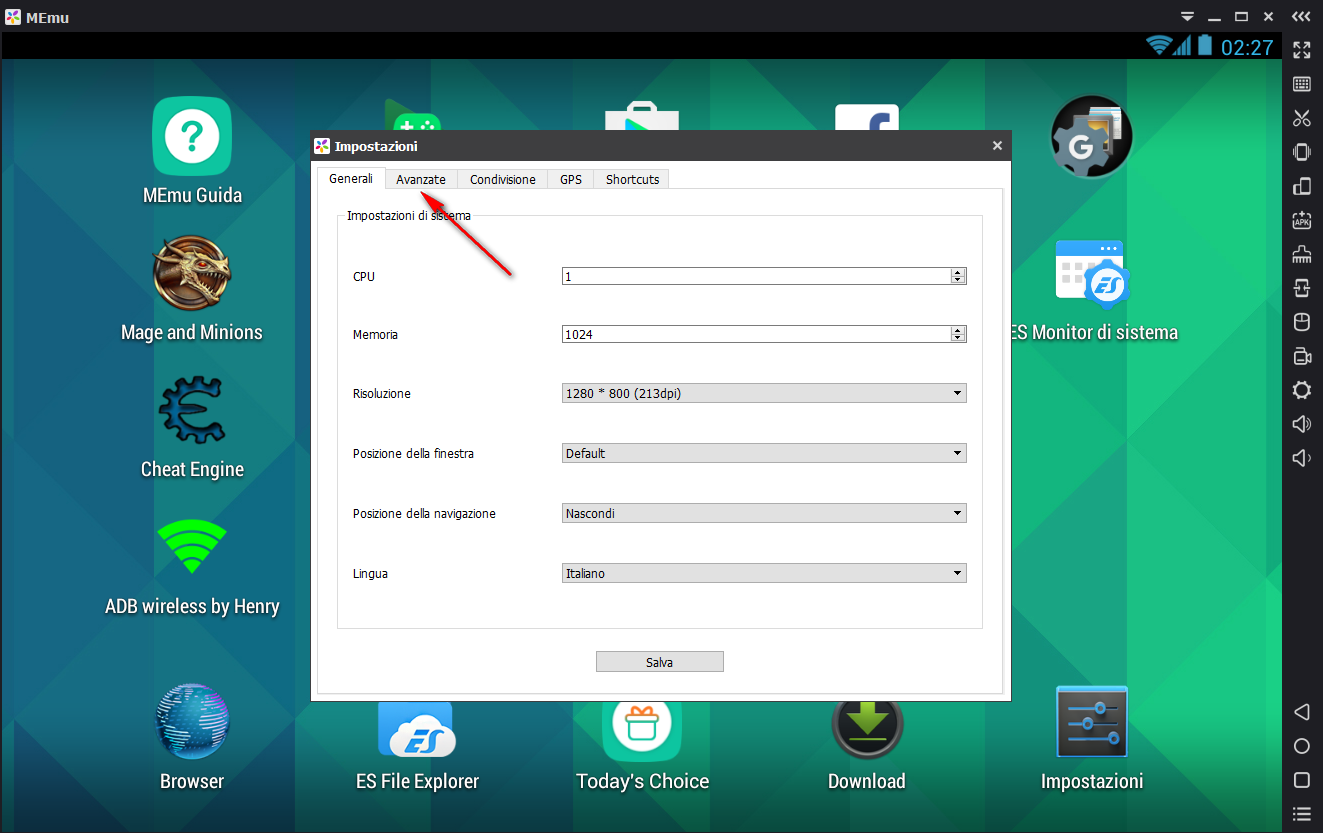 Select the Advanced tab, and you'll see another section where you can enable root mode.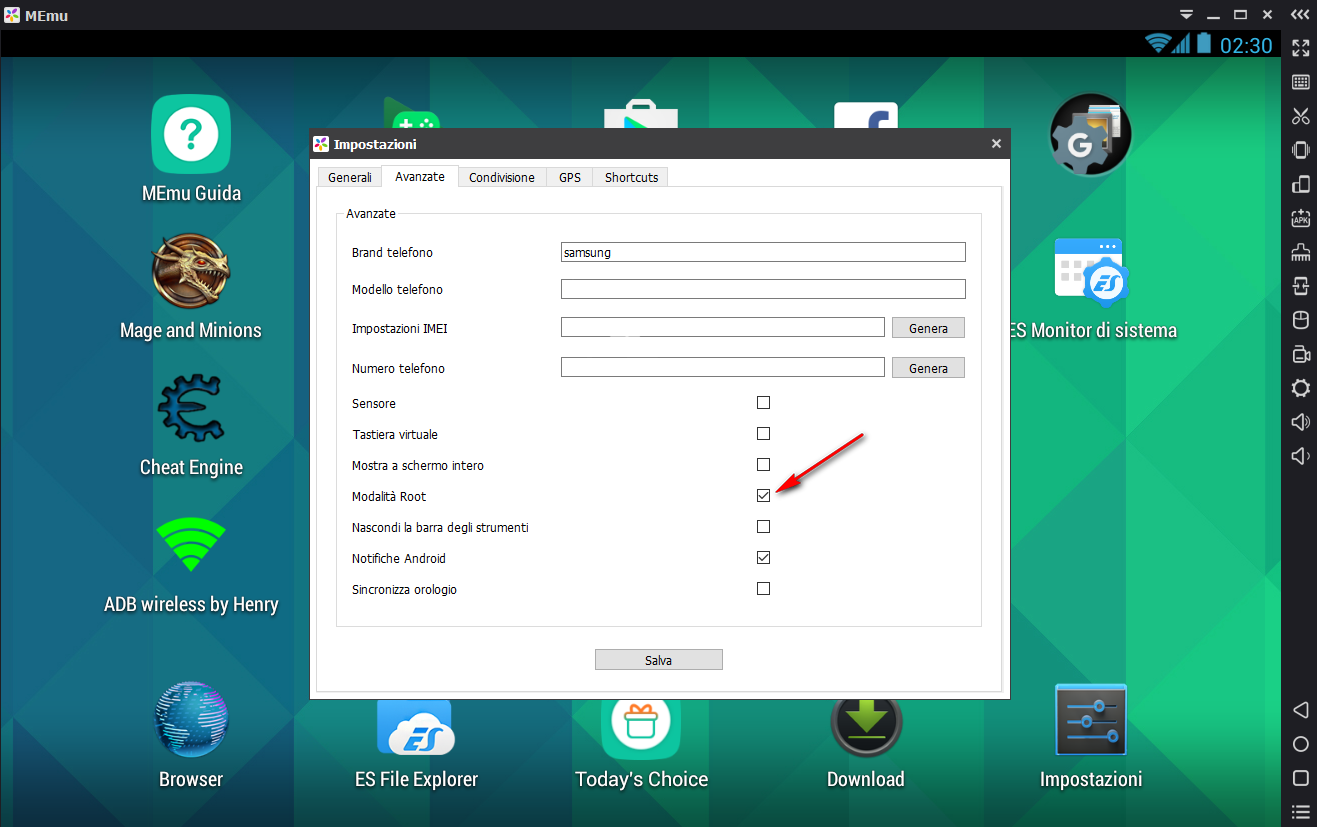 Make sure that the Root mode is active to allow to use it when required by the applications device.
In fact, the root mode, will not give root permissions to any application requires, but rather, ask you, when an application requires for them, when and how long time grant these permissions to the application.
The video tutorial on using MEMU
Here you find what has been said so far in video format, present in my YoutTube channel:
MEMU – Conclusions
With MEMU they have done a great job and if you look for an emulator with excellent performances and that does not force you to pay a subscription, this application is for you.
Some of you have reported me problems with installing unwanted applications that would happen automatically.
This is because this is also a form of advertising that repays developers.
So do not be scared if you find apps that you did not choose, I think it's still a minimum cost to be able to take advantage of a good emulator.
As always I wait for your opinions about it, writing to me where you prefer.
If you liked the article, share it.
If you want to follow my blog, subscribe to my pages and to my YouTube channel.
Andrea